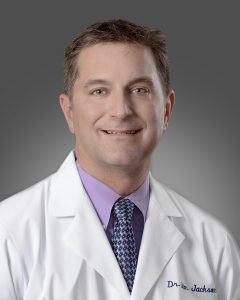 Dr. Jim Jackson
Dr. Jackson was born in Muncie, Indiana. He obtained his undergraduate education at Vanderbilt University in Nashville, Tennessee, attending on a Naval ROTC scholarship.
In 1993, Dr. Jackson graduated with a Bachelor's of Science degree in Biology. Upon graduation, he was commissioned as a Naval Officer in the Supply Corps and proudly served his country from 1993 until 1999.
In 1999, Dr. Jackson left active duty to pursue a career in veterinary medicine. He graduated magna cum laude from the University of Florida College of Veterinary Medicine in 2005. Following graduation, he performed a one-year rotating small animal internship at Georgia Veterinary Specialists (GVS) in Atlanta. His professional interests include diagnostic ultrasound, endocrine diseases, and urinary issues.
Dr. Jackson married his college sweetheart and fellow veterinarian Melissa Monaco in 1994. They are both active members of the Timucuan Weimaraner Club and West Volusia Kennel Club and enjoy spending time with and caring for their two Weimaraners, Thor and Miles, and their four cats: Rigatoni, Cheddar, Emmy Lou, and Mr. Smithers. In his spare time, Dr. Jackson enjoys kayaking, biking, gardening, and appreciating good food and wine.