Grooming at Spring Oaks Animal Care Center can keep your pet looking and feeling their best! We offer bathing, nail trims, ear cleaning, and more!
For the safety of your pet and others we do require current vaccines on dogs and cats for grooming.
If your pet is not current, we can get your pet updated during their stay with one of our veterinarians.
We know how busy your schedule can be and are proud to be Deland's "one-stop-shop" with veterinary services, grooming, and boarding all under the same roof! Call us at 386-736-6747 to schedule your pet's grooming day!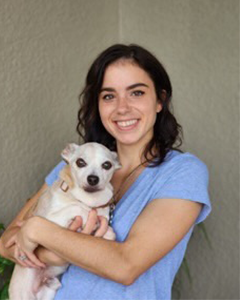 Valerie, Groomer
My name is Valerie and I have been a dog groomer for over 10 years. I recently relocated here from Illinois a few years ago. I have a Chihuahua/jack russell mix of my own named Dude, who is quite the ladies man. I mostly like to spend my free time with my husband and daughter exploring the nature Florida has to offer and playing disc golf. One of my favorite breeds to groom is a golden retriever, but I also love all the fluff of a poodle. Providing top quality work is important to me because there is nothing better than seeing your pet strut their stuff when they know they look good!