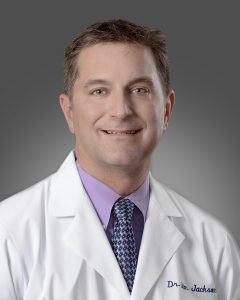 Dr. Jim Jackson
Dr. Jackson was born in Muncie, Indiana. He obtained his undergraduate education at Vanderbilt University in Nashville, Tennessee, attending on a Naval ROTC scholarship.
In 1993, Dr. Jackson graduated with a Bachelor's of Science degree in Biology. Upon graduation, he was commissioned as a Naval Officer in the Supply Corps and proudly served his country from 1993 until 1999.
In 1999, Dr. Jackson left active duty to pursue a career in veterinary medicine. He graduated magna cum laude from the University of Florida College of Veterinary Medicine in 2005. Following graduation, he performed a one-year rotating small animal internship at Georgia Veterinary Specialists (GVS) in Atlanta. His professional interests include diagnostic ultrasound, endocrine diseases, and urinary issues.
Dr. Jackson married his college sweetheart and fellow veterinarian Melissa Monaco in 1994. They are both active members of the Timucuan Weimaraner Club and enjoy spending time with and caring for their Weimaraner Dundee and 3 cats Cheddar, Mr. Smithers and Dweezil. In his spare time, Dr. Jackson enjoys kayaking, biking, gardening, and appreciating good food and wine.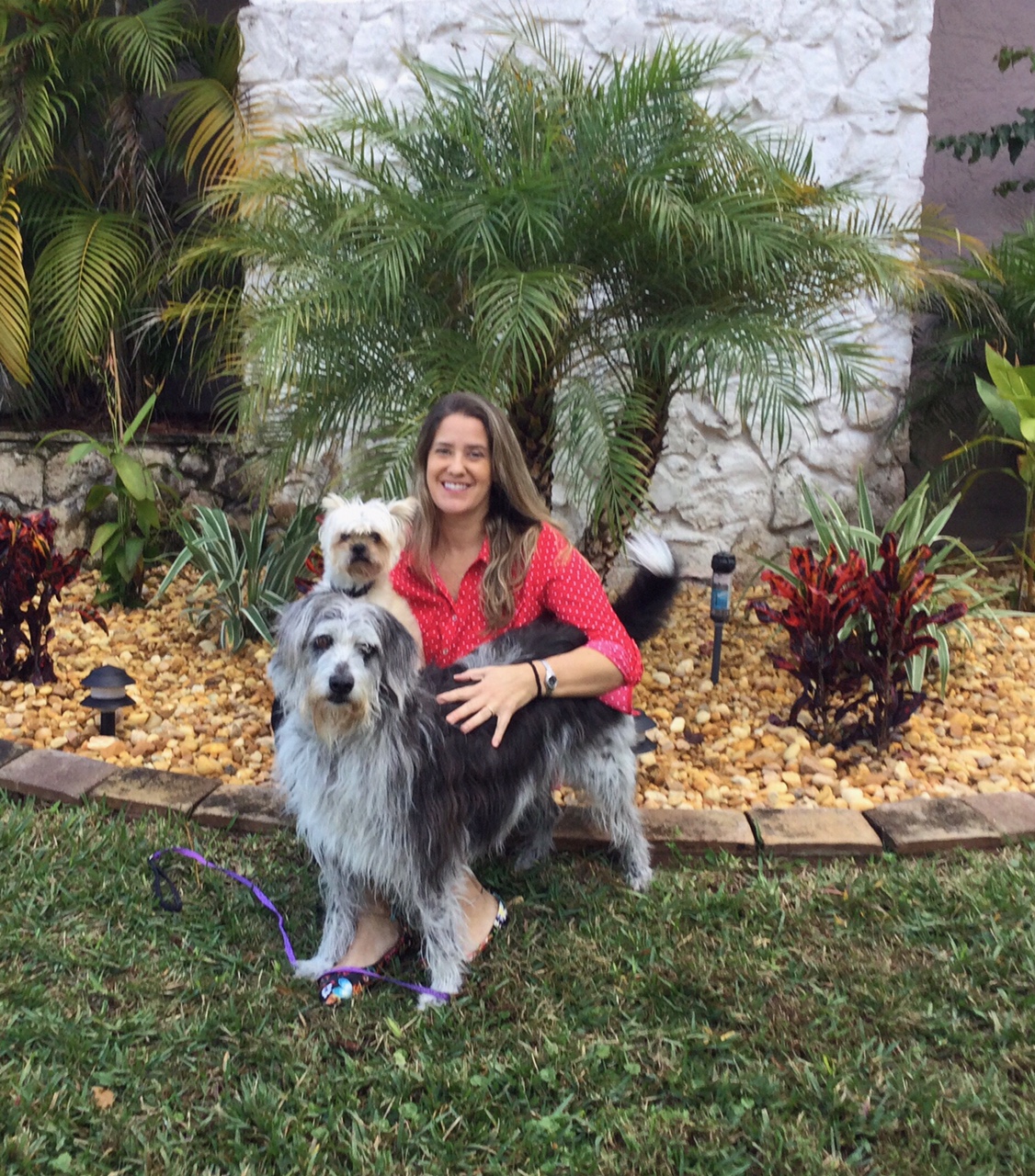 Dr. Kristin Kultgen Dominguez
Dr. Kristin has always had a deep connection and love for animals. Growing up in Random Lake, WI, she cared for her childhood dog (a Miniature Schnauzer) and an American Saddlebred horse! At the ripe age of five, she committed to becoming a veterinarian.
A graduate of the University of Wisconsin, Dr. Kristin has worked as both an equine-only veterinarian, and a mixed and small animal veterinarian since her career began in 2006. Her passions include educating clients and providing compassionate care. She is also certified in Fear Free techniques!
At home, Dr. Kristin and her family have small and large breed dogs, cats, a rabbit, and several different birds and chickens. She is still looking for her next equine companion. Dr. Kristin enjoys relaxing with her husband and two adventure-seeking daughters in her free time, as well as cherishing time spent outside. She often feels her best when she makes time for outdoor activities such as horseback riding, gardening, kayaking, or playing with her family's menagerie of pets.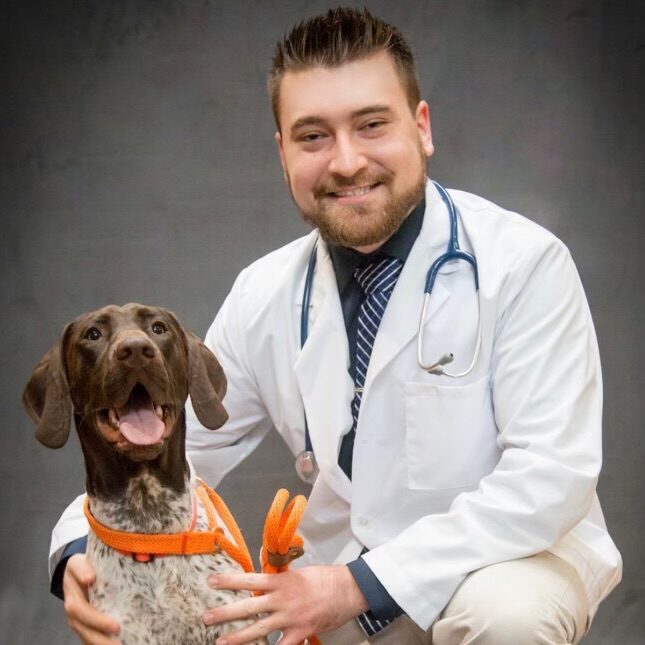 Robert Krudop, DVM
Dr. Robert Krudop was born and raised on Long Island, NY. His childhood was spent surrounded by dogs, birds, horses, rabbits, sugar gliders, reptiles and fish. It comes as no surprise that Dr. Krudop has wanted to be a veterinarian ever since he was in kindergarten. In the 9th grade, he shadowed his local veterinarian and fell in love with the field of veterinary medicine and the way that it allows him to serve both animals and people. Dr. Krudop's undergraduate degree was earned at Cedarville University (Bachelor of Science, Molecular and Cellular Biology). He then went on to earn his Doctorate of Veterinary Medicine at the University of Minnesota College of Veterinary Medicine. Before earning his license as a doctor and joining the team at Spring Oaks, Dr. Krudop worked as a veterinary assistant in Ohio. His favorite aspect of veterinary medicine is being able to help others make a difference in their pets' lives, and he is also passionate about surgery, animal reproduction, and exotic animal medicine. Dr. Krudop shares his home with a German Shorthaired Pointer, a Schnauzer, a parrotlet, and about 100 reptiles that he breeds professionally. In his spare time, he enjoys fishing, canine sports, hiking traveling, volunteering, motor sports, and exploring new places.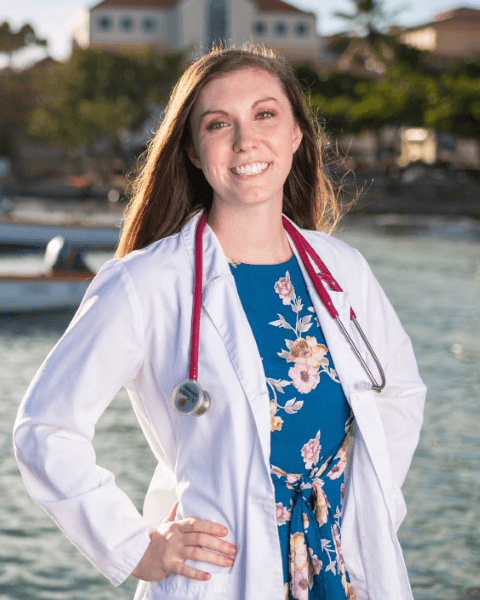 Dr. Lauren Rawlins
Dr. Rawlins grew up in Flagler County, FL, with a dog, cats, hamsters, and rabbits. She also raised goats through FFA and always wanted to become a veterinarian. She majored in zoology and minored in wildlife ecology and conservation at the University of Florida, then worked as a technician at a small animal hospital for a year and a half. She received her DVM from St. George's University School of Veterinary Medicine in Grenada, followed by clinical training at the University of Minnesota. She is currently becoming acupuncture certified through Chi University.
Dr. Rawlins enjoys teaching and communicating with clients about their pets, as well as creating relationships with her patients and clients. She also enjoys practicing preventative medicine.
She and her husband, Brandan, share their home with a beagle named Bo, a pothound (an island street dog from Grenada) named Louise, and cats Fenwick, Madeline, Arthas, and Pumpkin. In her free time, Dr. Rawlins enjoys dancing, musical theater, eating ice cream, and traveling.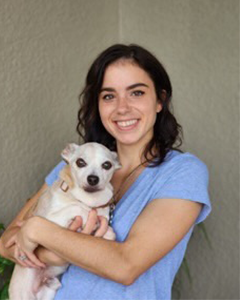 Valerie, Groomer
My name is Valerie and I have been a dog groomer for over 10 years. I recently relocated here from Illinois a few years ago. I have a Chihuahua/jack russell mix of my own named Dude, who is quite the ladies man. I mostly like to spend my free time with my husband and daughter exploring the nature Florida has to offer and playing disc golf. One of my favorite breeds to groom is a golden retriever, but I also love all the fluff of a poodle. Providing top quality work is important to me because there is nothing better than seeing your pet strut their stuff when they know they look good!