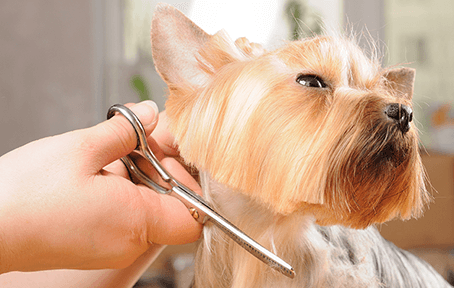 Grooming
At Spring Oaks Animal Care Center, we understand the importance of regular grooming for the health and well-being of your pet. Not only does grooming help to keep your pet clean and healthy, but it can also help to identify any potential health issues early on.
We offer full-service grooms and baths and a wide array of a la carte grooming services, including nail trims, anal gland expressions, ear cleanings, and skin repair treatments. No matter your furry friend's specific need, they're in good hands with our professional and loving staff.
MEET OUR GROOMER: Valerie
We are excited to introduce our new groomer, Valerie, who has over a decade of experience and a passion for making pets look and feel their best. Valerie recently joined our team and has a wealth of knowledge. Her own furry family companion is a Chihuahua/Jack Russell terrier mix named Dude, who is EXTRA friendly. When she's not busy at work, Valerie enjoys spending time with her husband and daughter, exploring the great outdoors of Florida, and playing disc golf. As a groomer, Valerie has a particular love of golden retrievers and poodles. She takes great pride in her work and loves seeing pets strut their stuff confidently after a grooming session!