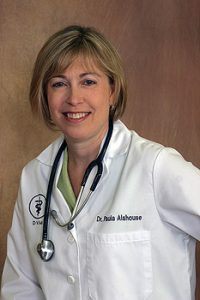 Dr. Paula Alshouse
Dr. Paula Alshouse grew up on a farm near Centrallia, Missouri surrounded by animals of all kinds, both large and small. It was there that she realized her desire to dedicate her life to work with animals. Working for her brother-in-law at his animal hospital in Missouri confirmed that aspiration, leading her eventually to the University of Missouri Veterinary College in Columbia, Missouri.
Graduating in 1983 as a Doctor of Veterinary Medicine, Dr. Alshouse proceeded to work in several animal hospitals in Missouri, Texas and Florida before settling down in DeLand and founding Spring Oaks Animal Care Center in 1988.
She shares her dreams of caring for animals of all kinds with her husband, Alan, a wildlife biologist and former veterinary technician. Together they find their greatest happiness spending time with their Rhodesian Ridgeback dogs. Dr. Alshouse is a member of the AVMA, FVMA, and Volusia County Veterinary Association.