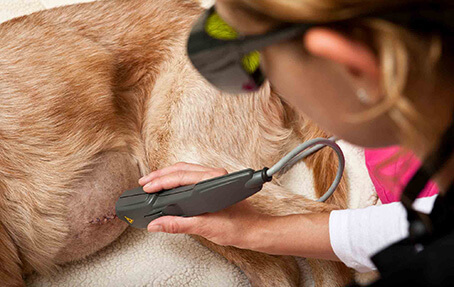 Laser Therapy
When it comes to managing acute and chronic pain, it can be worrisome to think about surgery or even prescription pain medications. For a non-surgical option to relieve chronic and acute injuries, we're proud to offer therapeutic pet laser therapy. We've used it to help hundreds of pet patients recover from a variety of muscle and connective tissue disorders—and it could just be the right thing for your pet, too!
Pet laser therapy offers two key benefits: pain relief and tissue regeneration. At Spring Oaks Animal Care Center, it's our pledge to offer high quality equipment and techniques that maximize patient outcomes and improve delivery of care. That's why our team utilizes the Companion therapeutic laser for all our pet laser therapy sessions. This highly regarded device transmits a low frequency light wave (also known as "cold laser") through your pet's skin and into the targeted tissue. This type of medical laser is completely non-surgical, which means that no cutting, burning, or discomfort is experienced from the laser itself.
Here's a basic run down of how it works:
The laser stimulates cells (whether in muscle, tendon, or other connective tissue) to increase the production of ATP from the cells' powerhouse, called mitochondria. ATP is like cell fuel and is necessary for re-growth, repair, and regeneration of damaged or injured tissues. In this way, pet laser therapy can actually accelerate healing by enhancing an animal's body ability to naturally heal itself–no surgery or drugs required!
The laser also increases local blood flow to the injured tissue and helps inflammatory substances circulate out of the area. This further accelerates healing and also reduces pain and swelling.
Though considered a "cold" laser, this therapy can warm and relax nearby muscles, promoting decreased risk of painful muscle spasms that's common with many musculoskeletal disorders.
Conditions treated with pet laser therapy
We have successfully helped animals recover from a variety of muscle and connective tissue pain disorders, including:
Chronic pain due to osteoarthritis, hip dysplasia, and other degenerative and/or congential issues
Knee injuries and other acute injuries
Muscle strains
Nerve pain and nerve damage
Is your pet suffering from acute or chronic pain? Give us a call now at (386) 736-6747. We are here to help!